AWC VIENNA 2016

THE LARGEST OFFICIALLY RECOGNIZED WINE COMPETITION IN THE WORLD

REGISTRATION
April, 11th – May, 1st, 2016
YOU ADVANTAGE
International market leader of the officially recognized quality – awards
Every year over 1700 producers out of 40 countries benefit from the quality evaluation of awc vienna.
Global Advertising with EU – Approval
awc vienna is officially approved by the EU to organize wine competitions for the purpose of granting wine awards. Advertise with "awc vienna medals" applied on your wine bottles!
11.611 Wines from 40 Countries (awc vienna 2015)
11.611 Wines from all five continents offer you a real challenge.
Absolute Blind Tasting
All wines will be tasted in single cabins and anonymously (blind tasting) by an international jury. This offers a fair chance for every wine!
Moderate Participation Fees
In the international comparison favorable participation fee of € 60.– (for participants in Austria and in the EU: +20% VAT) per wine sample and the awc vienna extra discount: If a wine producer submits 6 wine samples, 3 more wine samples are for free.
***Stars Winery – evaluation of awc vienna
For the ***stars evaluation of wineries, the points of the six highest rated wines of a winery will be added up.
Attractive Prize Money
awc vienna is the only wine competition that offers prize money in total value of € 8.000.–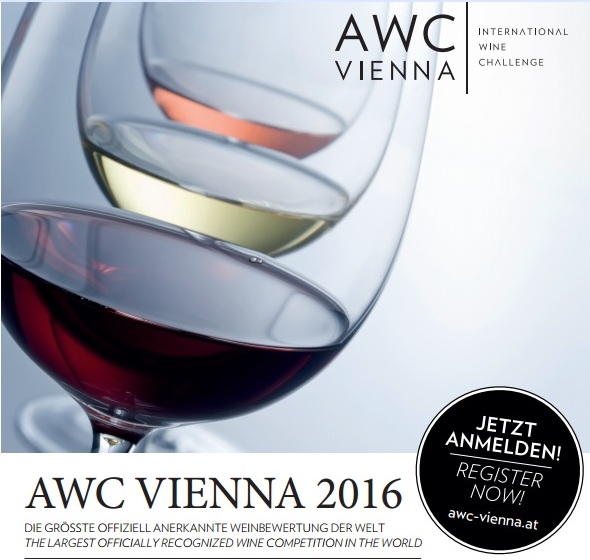 Kontakt / Contact
Mr Michael Bauer
AWC Vienna 2016
Tel: + 43 / 1 / 88 90 692
Fax: + 43 / 1 / 88 60 181
E-Mail: office@awc-vienna.at
Online: www.awc-vienna.at