ENOTREND EXPO RIVE 2017
RIVE 2017 will be held on 12th-13th-14th December 2017, in the trade center of Pordenone, in Viale Treviso 1. From vine to wine, from the field to the cellar: Rive 2017 will be a unique event at an international level in the wine sector, a benchmark for the entire industry.
ENOTREND PROJECT
RIVE 2017 is not just an occasion to match demand and supply. The aim of the event is to open new channels of communication between the parties involved, creating insights and let an exchange of know-how arise which can remain active even beyond the time and physical limits of the exposition.
Enotrend is the project that contains the added value of RIVE 2017: a space devoted to workshops, discussions and seminars on new trends in the field of vine culture, technical innovations, research & development. The project provides a place of virtual knowledge exchange and different occasions for the real meeting of experts at the highest level. Enotrend was born of a Scientific Committee composed of prestigious names of the Academy and of the Italian wine world. The group gave impetus to the works on December 2nd, with the first meeting and election of the President, unanimously voted in the person of Professor Attilio Scienza.
Enotrend: blogs, seminars, conferences, and workshops
The virtual part of Enotrend project is already active: there is a blog on which you can find news and information on viticulture, winemaking and oenology, with the valuable contributions of the Scientific Committee.
On odd years, Enotrend will be hosted in the Rive spaces where it will come to life in the form of workshops in which winemakers and agronomists will be able to confront and widen their training, under the guidance of a Scientific Committee composed of distinguished scholars from Research Institutes and prestigious Italian Universities.
On even years, Enotrend will be a stand-alone event, with conferences, workshops, meetings, in itinerant headquarters, not only in the Triveneto area, but also throughout Italy.
If you arrive by plane:
Trieste, Venice and Treviso international airports are 50 minutes by highway from Pordenone.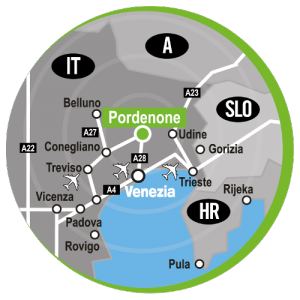 Chiara Bonan Advisionair
press office 2017
tel. +39 348 7727840
ufficiostampa@advisionair.it
Simona Maldarelli Pordenone Fiere
Communication
tel. +39 0434 232111
direct +39 0434 232292
cell. +39 335 7024597
smaldarelli@fierapordenone.it