RECEVIN meets with Bulgarian vine and wine municipalities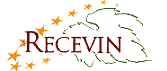 On August 27th the General Secretary of RECEVIN, Carme Ribes, travelled to the Bulgarian city of Plovdiv, invited by the Tourist Office of this city, to participate in a meeting convened by the Tourism Council of Plovdiv and the region of Trakia.
The meeting, whose main objective was to introduce the European Network of Wine Cities among the Bulgarian municipalities, was conducted by Lubozar Fratev, Chairman of the Board of Directors of the Tourism Council of Plovdiv and the tourism region of Trakia, and it was attended by political representatives from other municipalities, as the Major of Parvomay, representatives of the wine sector and of the university world, as well as print journalists and the Bulgarian Television.
Considering that wine industry is an important sector in the Bulgarian economy and society, Recevin may be an important tool for the promotion and exchange of experiences of the Bulgarian vine and wine municipalities in the rest of Europe.
Plovdiv – city of ancient origins, proud of its 8,000-year history, which has a rich culture and a great dynamism and interest in being a modern city, also wants to claim its winegrowing facet. Plovdiv is right now preparing its candidature to European Capital of Culture 2019. Plovdiv made clear during the meeting its interest in joining RECEVIN and work side by side with the cities of the  Network, among other initiatives on the European Day of Wine Tourism.
Secretaría General de RECEVIN
Pl. de l'Àgora nº 1
08720 Vilafranca del Penedès · Barcelona
Telf. +34 93 818 01 37
recevin@recevin.net – www.recevin.net