The 15th edition of Decanter World Wine Awards 2018 (DWWA), the world's largest and most influential wine competition
This year 2018 the competition will be chaired by four of the most influential palates of the wine world: Gerard Basset OBE MW MS, Sarah Jane Evans MW, Michael Hill Smith MW and Andrew Jefford, Decanter columnist and 'Jefford on Monday' blogger. They will work together by supporting all the regional chairs.
For Bulgaria the Regional Chair will be Caroline Gilby MW together with Beth Willard accompanied by 15 of the World's leading wine experts.
SAVE THE DATE!
This year we will open Decanter World Wine Awards registrations one month earlier.
Registrations will open on 7th November 2017  
Entry deadline will be 2nd March 2018 (not extended date)
DWWA 2018 KEY DATES
 –        7th November 2017                       DWWA OPEN
–        7th November 2017                        UK warehouse open for direct deliveries
–        2nd March 2018                                DWWA Entry and Payment deadline
–        9th March 2018                Direct delivery deadline
–        30th Apr – 4th May                       Judging Week (1st round)
–        8-11th  May                                       Platinum and Platinum Best in Show Tasting (2nd round)
–        End of May 2018                            Results available to entrants via online account
–        June 2018                                         Full results published on Decanter.com
ENTRY PRICES
GBP (£) 139 + VAT 20% per wine CREDIT CARD PAYMENT
GBP (£) 160 + VAT 20% per wine BANK TRANSFER AND CHEQUE PAYMENT
 ⇒ CLICK HERE TO REGISTER YOUR ACCOUNT AND YOUR WINES
---

Michela Nassiz – Account Manager I Decanter
Blue Fin Building, 110 Southwark Street, London, SE1 0SU
Tel +44 (0)20 3148 4508
Mob +44 (0) 777 38 18 784
www.decanter.com
 DWWA 2018 – Registrations open on 1st November and deadline on 2nd March 2018

VINISUD, WORLD OF MEDITERRANEAN WINES
Vinisud 2018 takes place from February 18 to 20, 2018 at the Parc des Expositions in Montpellier
In 2018, VINISUD (World of Mediterranean Wines) and VINOVISION PARIS (The International cool climate wine exhibition) are combining forces and organizing both events jointly, providing an improved response to the needs of the French and international wine trade.
About VINISUD
VINISUD, the World of Mediterranean Wines, is an international benchmark exhibition for wines produced around the Mediterranean.  VINISUD and its tight-knit, dedicated and dynamic team aims to serve all the sector's stakeholders, at all times. Over 30,000 international visitors representing 70 nationalities attend the show, including 400 international buyers recruited by VINISUD and Sud de France as part of the International Business Forum. There are 1,650 exhibitors with attendance by all Southern marketing boards and countries around the Mediterranean.
Every year, Vinisud provides exhibitors and visitors from around the world with a unique opportunity to meet up for the first international business event of the year. The show is entirely geared to supporting development of wines from around the Mediterranean. Playing a pivotal role in the global wine scene, they represent over 30% of production and nearly one third of world exports.
Vinisud's success stems from its reputation as an effective, innovative trade show. Drawing on its Mediterranean culture, it has developed its own distinctive trademark as a dynamic, forward-looking international show with an openminded approach to business. Acting as a bellwether for new trends, it offers attendees dedicated, themed areas including the Nouvelle Vagueby Vinisud, Sparkling Zone, Palais Méditerranéen, Wine Mosaic with its rare and native grape varieties, Wine Tourism…


Vinisud is not just a trade event, it is a benchmark for wines from the South and an easily identifiable show that resonates with the media, both social and conventional, across the globe.
Montpellier showground:
Route de la Foire – 34470 Pérols – France
Tél : +33 (0)4 67 17 67 17 – Fax : +33 (0)4 67 17 67 00
Opening times:
Sunday February 18 and Monday February 19, 2018: 9:00 am – 7:00 pm
Tuesday February 20, 2018: 9:00 am – 5:00 pm
GPS coordinates:
North Entrance: lat: 43.574255 – long: 3.948094
South Entrance: lat: 43.569334 – long: 3.955266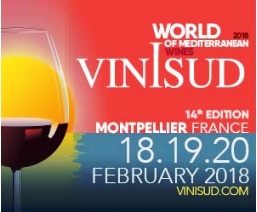 Contact:
Catherine Bourguignon – Service Communication Presse
Adhesion Group – 35/37 rue des Abondances – 92513 Boulogne cedex France
Tel : 33 (0)1 41 86 41 27 Fax : 33 (0)1 46 04 57 61
Email : cbourguignon@adhes.com  – www.adhes.com